Cafe Crema
Für Kaffee und Espresso
Ein ausgewogenes Zusammenspiel zwischen erlesener Mischung und der darauf abgestimmten Röstung verleihen diesem Kaffee eine vollendete Harmonie von Kraft und Bekömmlichkeit.
Abgerundet wird sein würziger Geschmack durch die haselnussbraune, samtige Crema.

Eine ausgesuchte Komposition für den täglichen Kaffeegenuss.



Cafe Crema
ist erhältlich in: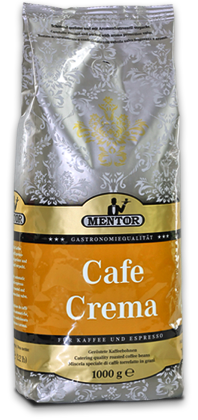 Cafe Crema
One blend for both standard large cups
and short espresso
A balanced interaction between exquisite blend and compatible roasting gives this coffee a perfect harmony of strength and wholesomeness. The spicy taste is completed with a hazel nut brown, velvety crema.

A composition selected for the daily coffee enjoyment.



Cafe Crema
is available in: