Espresso Delicato
Traditioneller Espresso
Dieser Traditionelle Espresso Blend besticht durch seine Würze und sein vollmundiges Aroma, welche durch die sorgfältige Auswahl feiner Bohnen niemals bitter wirken. Die langanhaltende und sehr beständige Crema macht ihn nicht nur zu einem geschmacklichen Highlight, sondern auch zu einem ästhetischen Hingucker.

Kräftig und lang anhaltend im Abgang – eben typisch italienisch!



Espresso Delicato
ist erhältlich in: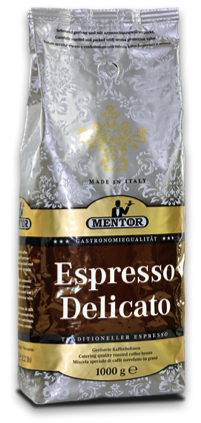 Espresso Delicato
Traditional Espresso
This traditional espresso blend boasts its bold flavor and aroma, which never seem bitter by the careful selection of suitable quality beans. The long-lasting and very stable crema makes it not only a flavorful highlight, but also an aesthetic eye-catcher.

Strong and long finish - typical Italian!



Espresso Delicato
is available in: