Casino Royal
Sehr ergiebig · kräftig · aromatisch
Höchste Ergiebigkeit ohne geschmackliche Kompromisse!

Die Mischung aus intensivem Aroma und delikater, balancierter Säure machen diesen Kaffee zu einer Hommage an die traditionelle mitteleuropäische Kaffeekultur.
Der dunkle Grad der Röstung gewährleistet seine besondere Ergiebigkeit und vollsten Geschmack bei jeder einzelnen Brühung.



Casino Royal
ist erhältlich in: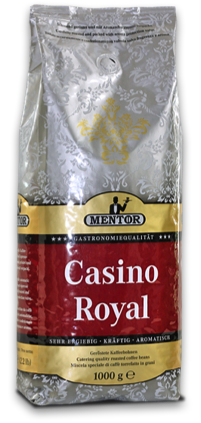 Casino Royal
Very economical · strong · aromatic
Highest yield without compromising taste!

The combination of intense aroma and delicate, balanced acidity make this coffee to a homage to the traditional Central European coffee culture. The dark degree of roasting ensures its special economical yield ratio and fullest flavor with every single brew.



Casino Royal
is available in: