Schümli Exquisit
Schweizer Rezeptur
Schweizer Rezeptur steht für hohes Qualitätsbewusstsein, beste Bekömmlichkeit und aromatische Ausgewogenheit. Rohkaffees aus ausgesuchten Regionen werden schonend und sorgfältig geröstet, um das vollmundige Aroma dieser Kaffees zur Geltung zu bringen.

Das Ergebnis: Perfektion Tasse für Tasse mit einer besonders seidigen Crema.



Schümli Exquisit
ist erhältlich in: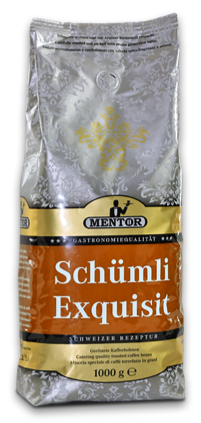 Schümli Exquisit
Swiss recipe blend
Swiss recipe stands for high quality awareness, harmonic coffee and aromatic balance. Green coffee beans from selected regions are gently and carefully roasted to bring the full-bodied flavor of this coffee to advantage.

The result: perfection cup for cup with a particularly silky crema.



Schümli Exquisit
is available in: